Regular pool deck cleaning on a St. Petersburg, Florida, property is a vital step for keeping that area clean and safe for foot traffic. Professional cleaning also removes gritty and drying debris, helping to avoid chips, cracks, and other such damage.
While pool deck cleaning and other exterior power washing services offer lots of advantages for homeowners, some might put off this work, thinking it's somehow damaging to surfaces. Some homeowners might not even realize that a Sarasota power washing company can clean their home's pool deck and make it look like new again! To ensure you're making the best decisions for your property's appearance and maintenance, check out these top 5 questions many homeowners have about pool deck cleaning in St. Petersburg, FL.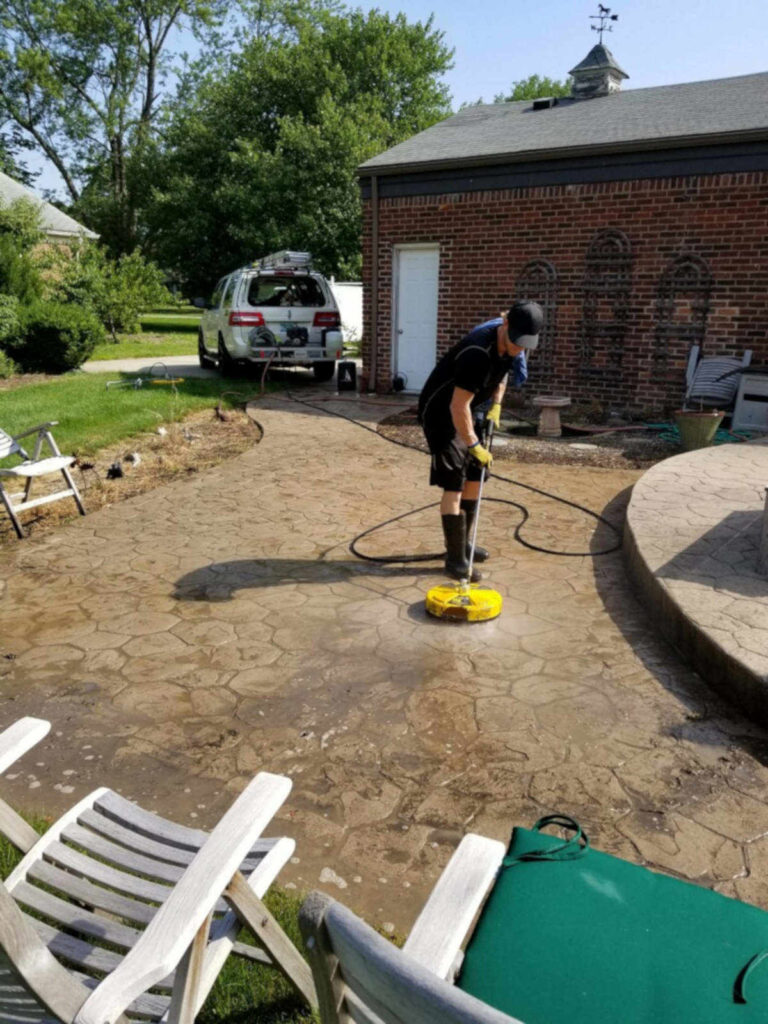 Why Choose Professional Pool Deck Cleaning in St. Petersburg?
Using a garden hose and other household tools is no match for professional pool deck cleaning on a St. Petersburg property. Soft wash systems start with detergents and cleansers that reach deep into all the nooks and crannies of concrete, stone, and wood decks, loosening dirt, mud, dried dust, sand, and other residues.
Power washing contractors might also use a specialty brush designed for concrete, patio pavers, and other outdoor surface materials, to also loosen that dirt and remove it from a pool deck surface. A soft wash low-pressure wash then rinses away that dirt and debris, without scattering over a pool's surface or chipping and cracking deck materials.
Professional pool deck cleaning not only removes dirt and grime but also kills mold, moss, mildew, and algae. You'll enjoy cleaner, safer walking surfaces and improved outdoor air quality when you rely on a pro for the exterior cleaning needed on your property!
How Much Should Pool Deck Cleaning in St. Petersburg Cost?
Costs for pool deck cleaning in St. Petersburg are typically figured by the square footage but might range anywhere from $.50 to $3 per square foot, depending on levels of dirt needing cleaning, deck materials, ease of accessibility, and other such factors. Most homeowners end up spending anywhere from $125 to $250 for pool deck cleaning, but this cost varies greatly from property to property.
If you're hesitant about St. Petersburg pool deck cleaning costs, ensure you get a free quote in writing before work begins. You can then shop around as needed and make your final decision about needed power washing, but remember that cheaper is not always better! You want a quality clean you can trust, so invest in a reputable company with a customer satisfaction guarantee rather than simply choosing the cheapest contractor you can find.
Can You Clean a Pool Deck With Bleach?
Bleach is often effective at killing mold, moss, mildew, and algae around a pool deck but it's vital that you avoid using it at full strength! Undiluted bleach dries out concrete and patio pavers and is damaging to plants and lawns.
To use bleach to clean a pool deck, dilute it to a 50% bleach-water solution. Spray surrounding plants and lawn edges with water, to provide a layer of protection against residual or airborne bleach. Let your bleach solution saturate mold or other debris for several minutes and then rinse thoroughly.
Note that this cleaning method might kill mold and other irritants but is no substitute for professional power washing! Removing layers of ground-in sand and other debris requires specialty cleaning, as said, so be sure to use a bleach solution only as a spot treatment between professional washing.
Can You Clean an Acrylic Pool Deck?
Acrylic pool decks are durable and attractive but need specialty care, to avoid scratching and etching the material. Soft wash systems are the best choice for acrylic pool deck cleaning in St. Petersburg, as this power washing method uses only a gentle pressure and soft brushes. Soft wash pressure washing leaves an acrylic pool deck looking its best without causing damage.
Will Baking Soda Damage a Concrete Pool Deck?
Baking soda is an excellent choice for stain removal on concrete surfaces, including pool decks. However, the mistake many homeowners make when using baking soda is rubbing it into the concrete with a stiff-bristled brush not meant for concrete, paver stones, and other such materials! Wire brushes, nylon bristles, and other such materials often scratch and etch concrete and even strip away paints and coatings.
If you do want to tackle a stained pool deck between professional cleanings, invest in a soft-bristled brush designed for concrete in particular. Mix the baking soda with water until you form a paste and gently brush that paste into the stain, letting it sit for several minutes and dissolve any residual grease or oil. Rinse it away with a garden hose and then repeat as needed.
When to Schedule Pool Deck Cleaning in St. Petersburg
Many homeowners schedule pressure washing services in St. Petersburg every other year or even every three years, but this might be insufficient for your home! Florida weather often means lots of storm debris covering a property, while St. Petersburg's proximity to the coast typically results in lots of sand, silt, and soot from nearby marinas settling onto your home's exterior surfaces.
To ensure you're keeping your property well-maintained, consider annual pool deck cleaning, exterior house washing, roof washing, and driveway pressure washing. Yearly cleaning removes layers of dirt and grime while also washing away ground-in sand, silt, and other debris. Power washing also reveals areas needing repairs such as torn roofing shingles, chipped concrete, and other such issues sometimes obscured by thick dirt and mold!
It might even be helpful to schedule pool deck cleaning in St. Petersburg more than once per year, especially if you use your pool often. More pool usage often means more chlorine is added throughout the year, and airborne pool chemicals residues settle onto a pool deck. Twice-yearly cleaning also ensures your home's pool deck is always clean and pristine and ready for entertaining, while ensuring improved outdoor air quality and a space you'll be proud to show off to friends!