Residential power washing in St. Petersburg offers many benefits for homeowners, not the least of which is an improved appearance outside your home and around your property. St. Petersburg pressure washing also removes damaging sand, silt, grit, algae, and other debris common in the St. Pete area, protecting a home from cracks, leaks, water damage, and mold growth.
While residential power washing in St. Petersburg is an excellent choice for any homeowner, some property owners have the wrong idea about pressure washing and how it's done. Some homeowners even assume that pressure washing services are somehow dangerous for their home! To ensure you're doing everything possible to keep your St. Pete home clean and pristine and in good condition, consider some myths about residential power washing in St. Petersburg and then discuss any other concerns you might have with a pressure washing contractor near you.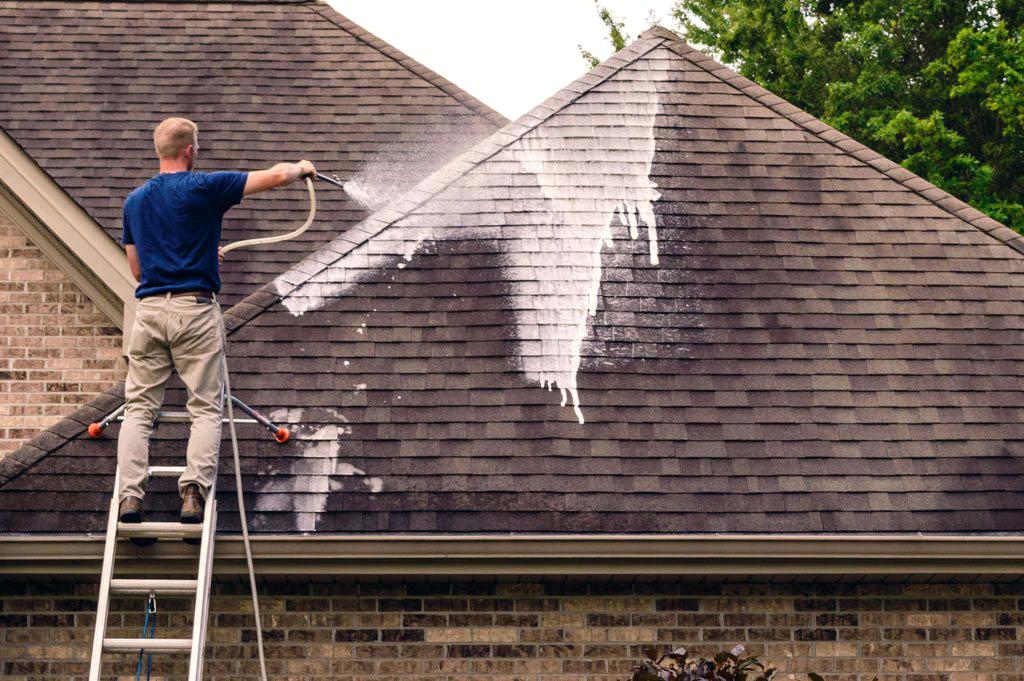 Myth 1: Residential Power Washing in St. Petersburg Leads to Water Damage
Some homeowners put off residential power washing of a St. Petersburg FL home because they've heard that pressure washing leads to water leaks and damage inside the home. This isn't necessarily true, but it can happen if you were to use improper power washing techniques. A homeowner trying to manage their own residential power washing in St. Petersburg might chip outside brick, dent siding, or otherwise damage a home so that water gets underneath those materials and inside their home.
This damage can be avoided by using only qualified, professional power washing contractors in St. Petersburg. An expert pressure washing company will ensure that they use the least amount of pressure needed to clean a home and will angle the washing wand properly, avoiding damage to surface materials and the risk of interior water leaks.
Myth 2: All Pressure Washing Services in St. Petersburg Are Alike
Different surfaces of your property require different cleaning methods, tools, and surfactants. For example, pool deck cleaning in St. Petersburg is often best done with a scrubbing brush meant to reach the pits and pores of concrete and patio pavers. Thick, dried dirt and mud clinging to the home's exterior walls might need higher pressure washing while a soft wash system is best for residential roofs, to prevent loosening shingles and tiles.
Note, too, that the type of dirt and debris to be cleaned also affects the power washing services in St. Petersburg needed for your home. Mold, algae, and other biological contaminants might require bleach-based cleaner, to kill their spores and roots. That same cleaner might dry out roofing shingles and tiles or be ineffective at dissolving thick dirt and mud in a home's gutters. A professional will know the right detergents to use for every surface of your home.
Myth 3: Pressure Washing Services in St. Petersburg FL Damage Landscaping
Someone not skilled in managing pressure washing equipment might accidentally spray across shrubbery and flowers, slicing them in half or flattening those landscaping features. A homeowner might also allow soapy water to collect in flowerbeds or along the edges of their lawn, and this can also harm anything growing on your property!
Professional pressure washing contractors in St. Petersburg typically direct water away from the lawn and to nearby drainage ditches, or will have other means of collecting water as it runs off the home. They are also very skilled at managing pressure washing equipment so that they avoid accidentally damaging landscaping features, even covering flowerbeds and shrubbery before work begins.
Myth 4: A Homeowner Can Manage Their Own Power Washing
While a homeowner might manage some light rinsing of a home and driveway on a regular basis, through and effective power washing in St. Petersburg is best left to the professionals. A power washing contractor ensures that no area of your property is overlooked, including underneath roof eaves and along the walls behind your landscaping features. He or she will also make quick work of getting rid of the thickest, caked-on dirt and grime as well as insect nests and other debris without damaging a home, etching a wood deck, and the like.
It's also vital for homeowners to understand that pressure washing in St. Petersburg is dangerous if handled incorrectly. The pushback of a power washer can knock someone off their feet and off a ladder! Using an electric power washer near puddles of water can also mean the risk of shock. To ensure a thorough and safe job, leave this work to a professional contractor rather than renting or buying your own pressure washing equipment in St. Petersburg.
Myth 5: If Your Home Looks Clean, You Don't Need Residential Pressure Washing Services in St. Petersburg
The most obvious benefit of residential pressure washing services in St. Petersburg is a clean and pristine home, free of dirt, grime, silt, and other unsightly debris. However, regular power washing also removes soot and air pollution residues that dry out roofing shingles and tiles, protecting them from becoming brittle and breaking away. Pressure washing services also remove insect nests and termite tunnels, keeping those pests out of your home.
Roof washing in St. Petersburg also cleans away leaves, twigs, seeds, bird droppings, and other debris that lead to shingle damage. Roof cleaning also reveals areas of water damage and needed repairs, so you can ensure your home is in tiptop shape! Washing away sand, silt, and other gritty debris from exterior walls and windows protects those surfaces from etching and scratching, reducing the risk of damage to their surfaces.
These are just some myths about residential pressure washing services in St. Petersburg that you might consider carefully when deciding on how to best care for your property. Never assume that your home doesn't need regular power washing or that you can manage this job on your own. Instead, consult with a power washing contractor near you and check out how often your home needs this service and then ensure you schedule pressure washing regularly, so your home is in good condition and always as clean on the outside as it is on the inside!