Regular concrete pressure washing of a St. Petersburg property is vitally important, as motor oil and automotive fluids, lawn care chemicals and fertilizers, and other similar materials can lead to chips, cracks, spalling, and other severe damage. However, you can also damage concrete by pressure washing it incorrectly or by using the wrong tools and materials!
Pressure washing concrete with too much pressure or the wrong detergent can cause etching and other surface damage and may even peel paint or specialty stains and sealants.
If you're a homeowner, note some important tips and cautions regarding power washing concrete of a St. Petersburg home, as well as pressure washing sidewalks, patio pavers, and other outside surfaces, including the house itself. This will ensure you maintain your property and keep it in good repair and looking its best throughout the years!

How You Damage Concrete by Power Washing
Many people believe that concrete is so solid and dense that you cannot damage concrete driveways by power washing, but this isn't entirely true! Concrete is a porous material that absorbs water, oil, and chemicals, all of which soften the material and cause it to break down prematurely. The surface of concrete can also suffer etching and other damage when you power wash a driveway incorrectly. The right concrete cleaners and professional power washing team can prevent problems.
Note the most common reasons for damage to concrete by power washing:

Power washers come with various tips or nozzles to help control the force of the water spray. Using the wrong tip will create a concentrated blast of water that etches the surface of the concrete.
Powerful pressure washers with too much PSI will damage concrete when power washing. Most residential driveways require no more than 3000 to 3500 PSI for proper and thorough concrete washing. Heavy-duty commercial pressure washers and other power washing equipment are too strong for the average residential driveway!
Many pressure-washing detergents are designed for a particular surface and type of stain. Avoid using a detergent meant for rust on a motor oil stain or one meant for cleaning graffiti and other difficult stains on painted concrete. Harsh detergents, or those meant for different surfaces, often damage the surface of a concrete driveway.
Power washing wands should be held at an angle to help loosen dirt and grime and avoid boring a hole into a concrete surface! Never hold your pressure washing wand directly over concrete or other such surfaces to avoid applying too much pressure to the area being cleaned.
Should You Power Wash Your Driveway?

Since you can damage a driveway by pressure washing, you might then wonder if you should power wash your driveway at all! The simple answer is yes. There are many reasons why you should schedule regular sidewalk and driveway pressure washing, as well as regular exterior house cleaning, professional gutter cleaning, and roof washing. Note a few of those reasons here:

Motor oil and automotive fluids, especially, are extremely corrosive and break down concrete, leading to chips, cracks, and surface spalling, as said. Lawn care chemicals and fertilizers are also very corrosive to concrete driveways, sidewalks, and patio pavers. A garden hose is not sufficient for cleaning these products thoroughly!
Sand, silt, and other gritty debris settle into the pits and pores of the concrete, etching away at the material and causing it to break down.
Mold, mildew, algae, moss, and other biological materials work their way into the pits and pores of the concrete and then grow and spread, causing the material to crack and break down. Plain water is not sufficient for killing these contaminants, but power washing equipment and proper detergents will clean them from crevices in concrete, patio stones, asphalt, and the like.
Note, too, that power washing a driveway restores its color and appearance. You might assume that the paint or stain of your driveway has faded or that your property's patio pavers are old and weathered when they really just need professional pressure washing!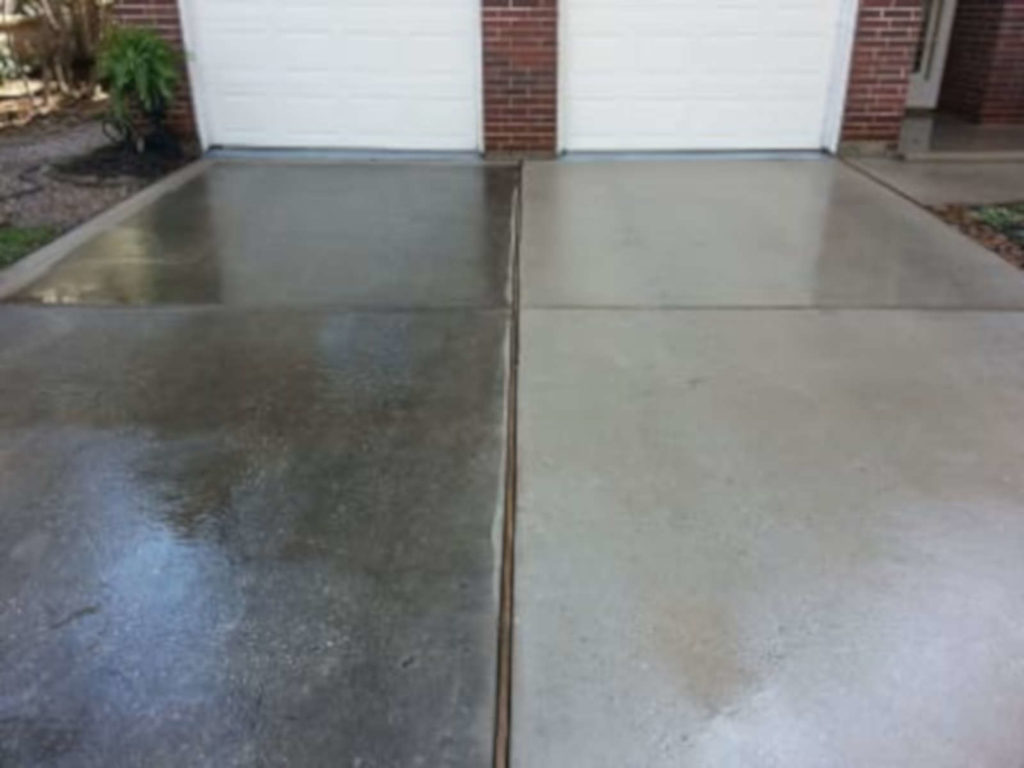 How to Pressure Wash a Driveway

The best way to pressure wash a driveway of a St. Petersburg home is to call a power washing contractor and leave the job to them! However, if you do want to tackle this job on your own, note a few tips to keep in mind:

First, start with a thorough sweep of the driveway to remove gravel and loose rocks that could become a hazard during driveway power washing.
Cover the exterior surfaces of your home with plastic sheeting. Do the same for nearby landscaping.
Apply a degreaser to oil stains. Use a heavy-duty scrub brush to scrub the stain and allow the degreaser to penetrate it thoroughly.
Ensure you use the right detergent with your power washer and the appropriate tip or nozzle for the extent of dirt and the size of the driveway.
Hold the wand at an angle, and be sure to keep it moving as you power wash the driveway. Aim the water toward the street as you work!
Once cleaned thoroughly, concrete should be sealed for added protection.
Why Power Wash a House in St. Pete

Along with power washing a concrete driveway and sidewalks, it's good to consider a regular exterior house washing, gutter cleaning, and roof wash. All the sand and silt that winds up on your driveway also collects on your home, etching exterior brick and siding and making a St. Pete house look rundown and dingy.

Regular, professional gutter cleaning ensures those gutters are clean and clear and directs rainwater away from your home as it should. Otherwise, that water might collect around a home's foundation and cause expensive damage, including cracks and chips. Professional gutter cleaning ensures gutters are clean while also keeping you safely on the ground and not on a ladder trying to manage this job yourself. Gutter guards can help reduce the amount of debris that sticks in your gutters and lessen the cost of professional cleanings.
Roof washing also protects the shingles and roofing materials of your home from corrosive damage and drying sand, soot, grime, and air pollution. As with concrete pressure washing in St Petersburg, professional roof cleaning also restores the appearance of your home, preserving its curb appeal and ensuring it always looks its best!