DIY gutter cleaning for a St. Petersburg home will save you money over the cost of hiring a pro, but when it comes to home maintenance and care, keep in mind that whatever decision saves the most money isn't always the best choice! Gutters are often more important to your home's overall condition than most homeowners realize and they need a proper, thorough clean on a regular basis.
If you've been cleaning your home's gutters yourself for several years or were thinking of pulling out a ladder and garden hose this weekend, note some vital information about professional gutter cleaning first. You can then make an informed decision about the best way to keep your home clean and pristine and in good condition.
Why Gutter Cleaning for St. Petersburg Homes Is Vital
Gutters are not installed for decoration and they're not actually meant to trap dirt, mud, and other grime! Gutters capture rainwater and snow as well as water rolling off a home's roof and then direct that water to your home's downspouts. Those downspouts then continue to direct all that moisture away from the home, typically to a street or drain or even a nearby collection pit.
Catching water and directing it away from the home keeps it from rolling down exterior walls and then pooling or collecting around its foundation. In turn, your home's brick, siding, concrete, exterior window glass, and other outside building materials are protected from water damage and unsightly stains.
Gutter cleaning in St. Petersburg is vital for ensuring those gutters stay clog-free. Thick mud, dirt, dust, storm debris, and other residues allow water to collect in gutters instead, where it then washes over their sides or gets absorbed by roof shingles and other materials. Regular gutter cleaning removes dirt and other "gunk" before it gets overly thick and causes clogs.
You might also notice standing water collecting in clogged gutters. Standing water often becomes stagnant and musty and very unpleasant for anyone sitting on a patio or deck under those gutters! Standing water also attracts bothersome pests and insects looking for a water source. Regular gutter cleaning improves outdoor air quality and allows you to enjoy your home's deck, porch, or patio.
St. Petersburg Gutter Cleaning Mistakes to Avoid
One reason homeowners might want to rethink DIY gutter cleaning is that they often make some simple but costly mistakes throughout the process. For example, simply running a garden hose along gutters is not sufficient for a thorough clean! It's vital that downspouts also get a good cleaning and that gutters be free of dust and other debris, or they'll need another cleaning again in no time.
Using high-pressure rinses is also a common mistake. Too much pressure pulls gutters and their connectors out of place while causing lots of splatter, often leaving a bigger mess than when you began! Soft wash systems use detergents or surfactants meant to gently but thoroughly dissolve even the thickest mud and grime so that a low pressure rinse is all that's needed to get gutters clean and clear.
Homeowners might also give gutters a good cleaning with a trowel and garden hose but fail to use cleansers or other treatments for mold, moss, mildew, and algae. Simply removing surface contaminants is not enough for killing their roots and spores, so that mold and other contaminants then grow back along roof eaves and shingles rather quickly. These contaminants loosen shingles while algae eats away at asphalt materials, so failing to remove them properly often results in costly roof damage.
How Much Should St. Petersburg Gutter Cleaning Cost?
Most homeowners pay an average of $75 to $300 for full-service gutter cleaning, depending on their home's size and levels of dirt needing cleaning. If you're hesitant about these St. Petersburg gutter cleaning costs, compare them to the cost of a water-damaged foundation or exterior walls or of cleaning algae off a home's roof and then replacing damaged shingles!
Your expected St. Petersburg gutter cleaning costs are an investment in your home's overall condition as well as your enjoyment of those outside spaces. Investing in regular professional gutter cleaning protects a home from water damage while ensuring it looks clean and pristine, while also eliminating mold and other irritants and improving outdoor air quality instantly.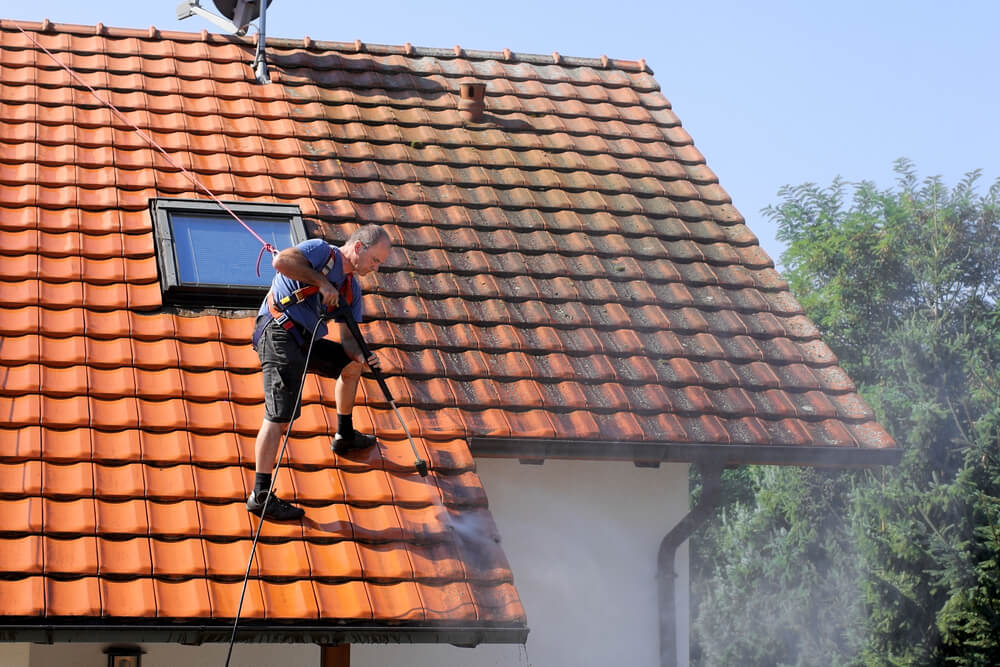 How to Choose a Power Washing Company in St. Petersburg
Now that you're convinced of the importance of professional gutter cleaning, how do you find a reputable power washing company in St. Petersburg? You have many choices in the area but it's vital that a homeowner take their time and shop around, to ensure they choose a reliable contractor able to offer a thorough wash.
One thing to remember is, as said, the cheapest option isn't always the best! A reputable, experienced pressure washing contractor will often invest in high-quality pressure washing equipment and detergents, and take his or her time to ensure a job done right. They will also then charge their customers accordingly! A very cheap power washing company might use underpowered equipment and rush through a job, so they can quickly move onto the next property.
It's also recommended that you choose a power washing company that's been in business for several years, preferably a decade or longer. Proper pressure washing techniques require skill and experience and cannot be learned overnight, or through online videos! An experienced power washing contractor will typically offer a more thorough clean and be less likely to damage your home and property, so note their time in business if possible.
A homeowner also wants to choose a power washing company with a professional yet personable approach to their work! Your pressure washing contractor should offer a free quote, in writing, and a guarantee that they won't tack on hidden or added charges. He or she should also visit your home well before their work begins, often to provide you with a quote, to note its overall size and levels of dirt needing cleaning. This ensures nothing will be overlooked with your needed gutter cleaning in St. Petersburg and that you'll be happy with their work as well.