Roof cleaning a St. Petersburg, FL, home is an excellent choice for removing storm residues, soot, and other such damaging debris. A thorough roof washing, along with exterior house washing and other power washing services, also improves the look of your home and property in an instant.
While roof washing has many benefits, some homeowners still hesitate to schedule this service and other power washing for their home or business. Some property owners are under the mistaken impression that roof washing damages shingles and tiles, or they may not understand the many benefits of power washing services in St. Petersburg!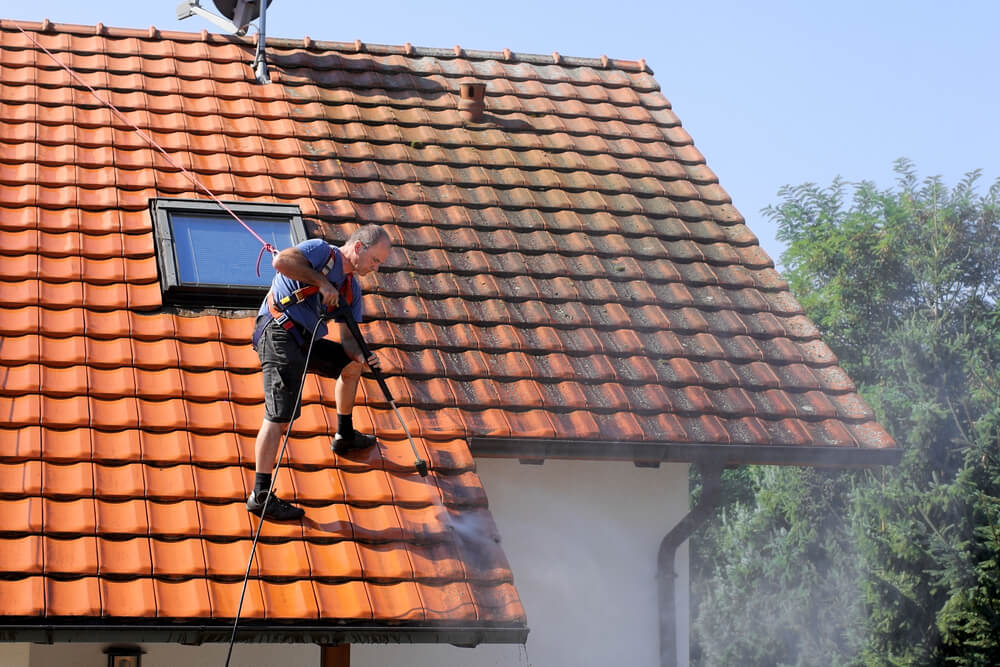 If you're a homeowner or commercial property owner, note some reasons why it's good to schedule regular roof cleaning in St. Petersburg. You might also note some mistakes to avoid with this process, as well as other power washing services to consider for your home or business. Be sure to discuss these options with a pressure washing contractor in St. Pete, so you know your home or commercial facility looks its best and is always in good repair.
Is Roof Pressure Washing in St. Petersburg a Good Idea?
To ensure your home is always clean and pristine and looking its best, first note the differences between pressure washing, power washing, and soft wash cleaning. Both pressure and power washing use pressurized water, while power washing uses heated water. Hot water is useful for dissolving grease and oil, as well as binders and sticky substances found in items like chewing gum.
Soft wash cleaning starts with detergents or cleansers designed to seep into pits and pores of a surface and dissolve thick dirt, grease, oil, sand, and other debris. Once dissolved, only slightly pressurized water is needed to rinse away all those residues.
High-pressure washing might be used for metal or concrete roofs, but is not always a good idea for most residential and commercial roof cleaning in St. Petersburg, as pressurized water might loosen shingles or spray away the granules along their surfaces! Soft wash systems are an excellent choice for roof washing, as those detergents dissolve dirt, mud, dust, soot, acid rain residues, bird droppings, and other residues, and low-pressure rinsing protects shingles and other materials from damage.
Why Choose Roof Cleaning in St. Petersburg
While high-pressure washing a St. Petersburg roof is not necessarily recommended, regular soft wash cleaning is an excellent choice and especially for Florida homes. One reason for this is that sand and silt tend to work their way into the nooks and crannies of a roof, etching and scratching shingles and potentially loosening their connectors. All that sand and silt is also very unattractive!
Other residues also tend to dry out shingles and cause premature damage. These residues include soot from vehicles and boats, acid rain and air pollution, storm debris, bird droppings, dried dust, leaves and twigs, and tree sap. These residues not only dry out shingles but they also work their way into the areas under and between shingles and tiles, loosening connectors and increasing the risk of shingle loss during Florida's stormy season!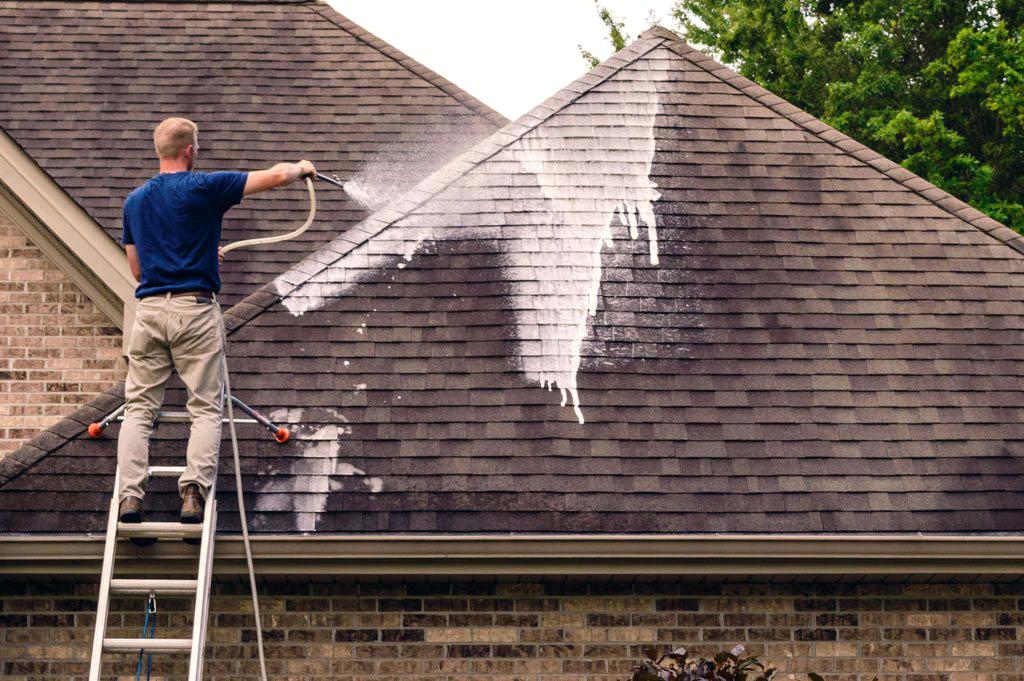 High humidity levels in Florida also increase the risk of mold, mildew, moss, and algae along a home's roof. These contaminants contribute to poor air quality outside your home while creating a rundown and dingy look.
Mold and other contaminants also work their way into the nooks and crannies of a roof, loosening shingles and tiles. Algae also eats away at asphalt shingles! Soft wash systems kills growing spores and roots of these contaminants and removes them from your home, for a clean and pristine look as well as improved air quality.
Many homeowners also don't realize how a roof's appearance affects their home's curb appeal and even their property values. Layers of dirt and dust create a dingy and rundown look, making your home look outdated and unkempt. A clean roof, on the other hand, enhances the look of your home and provides a like-new appearance.
It's also possible that layers of dirt, mud, soot, and dried dust are covering water stains, soft spots, torn shingles, and other areas in need of repairs. A thorough roof cleaning removes that dirt and debris and exposes signs of torn shingles, rotted wood, bent flashing, and other such damage, so you can schedule timely repairs as needed.
St. Petersburg Pressure Washing Mistakes to Avoid
While roof cleaning in St. Petersburg, as well as other power washing services, protect a home's roof and ensure a clean appearance, don't run out to the home improvement store and rent pressure washing equipment just yet! There are some very good reasons to leave this work in the hands of professionals, and some mistakes to avoid if you do decide to tackle power washing yourself.
One important consideration is rinsing detergent quickly, before it has a chance to dry along a surface. Detergent residues leave behind unsightly streak and also attract and trap dirt, so that your home's deck, wood fences, roof, and other such surfaces might look dirty again not long after you pressure washing those areas!
Using too much pressure on any surface is also an obvious mistake to avoid. Pressure washing might etch and scratch fences and decks, dislodge roofing shingles, and outright shatter glass and etch concrete surfaces. A power washing contractor in St. Petersburg knows the best tools and techniques for proper cleaning without damaging various surfaces and materials. Your St. Petersburg power washing costs are a great investment, especially when you compare them to the cost of potential needed repairs after a poor-quality, amateurish job!
Your Property Needs Roof Washing and Other Soft Wash Cleaning!
Along with roof cleaning in St. Petersburg, consider other soft wash cleaning for your home and property. Exterior house washing removes mold, moss, and mildew, as well as dirt, mud, and insect nests from brick and exterior siding, creating a comfortable outdoor environment.
Sand and silt, common in St. Petersburg, work their way into the pits and pores of concrete and paver stones, etching and scratching those materials. Patio and driveway pressure washing cleans away those debris, for an attractive surface protected from damage. Fence and deck pressure washing also kills bothersome and damaging mold and mildew.
Gutter cleaning along with roof cleaning in St. Petersburg keeps gutters free of clogs, ensuring rainwater washes away from your home. This means added protection against water damage and unsightly water marks and streaks, leaving your home in good repair and always looking its best.