If you're looking for a profitable business that's quick and affordable to open, consider how to start a roof washing business! Roof cleaning and other power washing services require skill and a few pieces of specialty equipment, but just about anyone can learn how to offer high-quality pressure washing services and get paying customers right away.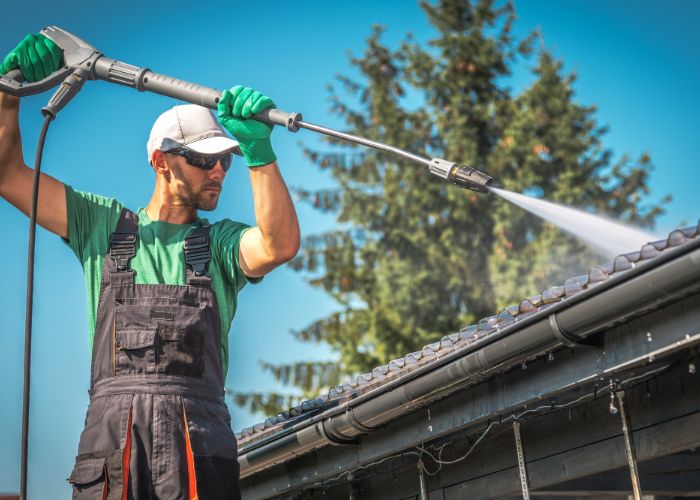 Steps to Take When Starting a Roof Cleaning Business:
1. Get a business name and URL
2. Get business insurance
3. Research and purchase equipment and cleansers
4. Learn how to wash roofs, and practice using that equipment
5. Learn how to price your jobs
6. Consider using a leads generation company to get new clients
The best way to enjoy success the minute you open your roof washing business is to check out some added tips from the pros! Many power washing professionals are happy to share what's worked for them and mistakes to avoid along the way. If you're ready to learn how to start a roof washing business, consider a few vital tips from those already in the industry.
How to Start a Roof Washing Business, the Basics
To start a roof washing business, you need to start with the basics of any new business, including the following steps:
1. Plan your services
Consider if you'll just offer roof cleaning or other power washing services; if you want to provide more than just roof washing, note what other services you can manage easily. For example, window washing often includes removing the window screens, washing around the window frames, and other minor details you might overlook and which can become cumbersome, so you might not offer those services at least until you become comfortable with your skills as a power washer.
However, note that many roof washing customers also appreciate gutter cleaning services at the same time, as roof debris also tends to end up in a home's gutters! Offering simpler services such as driveway pressure washing, exterior house washing, pool deck cleaning, gutter cleaning, and other standard power washing services will increase your customer base and, in turn, your profits.
2. Choose a killer company name
Choosing a company name quickly is vital as you'll want to note if it's already in use by another business in your area, and if you can purchase a complementary website URL. When choosing a company name:
Your name and URL should match what people search for online, so you can be found by Google, Bing, and other search engines. For example, "We Have the Clean!" is a great slogan but won't match terms people use when searching online; however, a business name with the phrase "Roof Cleaning" or "Roof Washing" will get you to the top of search engines!
People searching for local businesses online will often include the name of a major city nearby, so use this in your business and URL name. For instance, consider "Denver Roof Cleaning Pros" or "Roof Cleaning Experts Denver."
Avoid using your first or last name, as rarely will people search for your name online! It's also vital that you choose words easy to remember and spell; even if a customer should try to search for your company name in particular, if they misspell it, search engines won't be able to find you. In turn, your customer might hire another company they can find quickly and easily!
After doing a search of available business names and URLs, ensure you register your chosen name with your county and then reserve your URL, even if you're not ready to build your website. These quick steps will ensure no one else reserves those names while you're still working to open your business!
3. Get ready to pay taxes
Whether or not you need to collect sales tax on your roof cleaning business will vary by state, so check with an accountant or your state's website to note your requirements. You'll also need to pay self-employment or business tax yourself; if you're not sure the best way to file taxes after opening your own business, consult with an accountant or invest in a tax program such as TurboTax, to make the process easier.
4. Get business insurance
Homeowners and commercial property owners appreciate knowing that their property will be cleaned safely, and that they'll be reimbursed for damage in case of an accident! This is why it's vital to purchase adequate business or liability insurance; check with the agent carrying your car or other insurance policy before shopping anywhere else, as they might offer you a discount for multiple policies.
When working with ladders and on a roof for any reason, it's vital that you have two people on the job, to ensure the ladder stays in place and so that one person can call for help if the other should fall! Even if you have a friend or family member work with you, invest in worker's compensation insurance, to cover the cost of injuries and accidents.
While you don't want to spend too much on insurance, you don't want to underinsure your business either. Remember that you are still responsible for damages beyond your insurance policy coverage, and you don't want to lose your new business to a liability lawsuit! Consider at least a $50,000 policy for your new business, if not even more.
5. Check on needed permits and licenses
Roof cleaning businesses rarely need a particular license or permits, but check with your county about local requirements. Also, note that advertising yourself as having a license when you don't can mean hefty fines and other legal charges! Use caution about telling potential clients that you're "licensed" if there are no requirements for licensing in your area.
Learn How to Clean Roofs!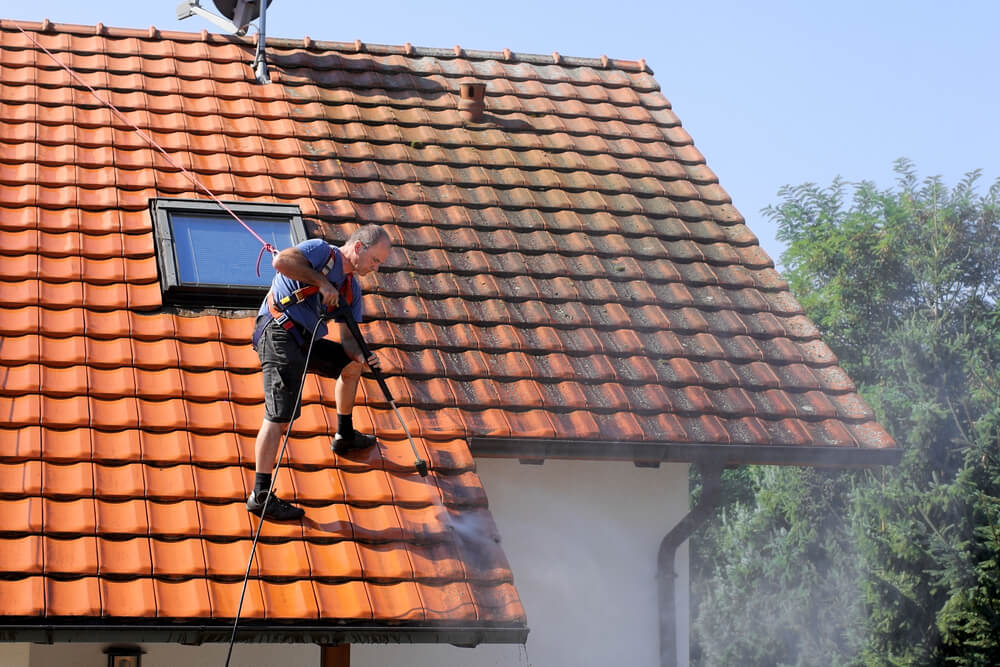 If you haven't had pressure washing experience already, it's vital that you learn how to clean roofs properly. Improper cleaning methods and the wrong tools and detergents will strip roof shingles, crack tiles, and cause lots of other roof damage!
Learn From the Best in the Business Online
For free tutorials, check YouTube and other online video services. Many professionals are more than happy to showcase their best techniques, including what to avoid. Remember to note added tips, such as how to avoid splashing and damaging landscaping below and to rinse roofs quickly so detergent doesn't dry! It's also helpful to note customer reviews of products used by the pros, so you know which brand is reliable and which doesn't deliver on its promises.
Invest in the Proper Safety Gear!
A roof pressure washing contractor also needs to stay safe when on the roof. This means using harnesses, wearing proper footwear and protective equipment, and staying away from power lines, damaged shingles, and other dangerous surfaces. Ensure you've thoroughly researched how roofers and other contractors stay safe on roofs and have invested in needed safety equipment.
Practice on As Many Properties As Possible
Before starting your business, it's also helpful to practice using your pressure washing equipment. If you own a home, try the equipment on an exterior wall or outside pavement, so you can get accustomed to handling and controlling the wand. If you don't own a home, ask a friend who does if you can practice on their pavement; offer a free driveway cleaning in exchange for letting you use their property!
How Do I Get Clients For My Cleaning Business?
Once you've established your business and have purchased needed equipment, how do you get customers for your roof washing business? While handing out flyers and renting billboard space can get some response, consider that flyers are often "lost in the shuffle" of other circulars, and billboards only get the attention of those who drive a particular road.
Online advertising, including a quality website, is a better option for finding customers. According to Blue Corona, 97% of consumers go online to research local products and services, and there are more than 1.7 million online Google searches for contractors every month!
"I have used LeadsForward to build my business," says Nate Knebl, owner of ProClean Homes, referring to an online lead-generating company that builds lead-generating websites for general contractors. "I could not say enough good about how professional they are and the results," Knebl stated. Knebl has also stated that he's seen his own pressure-washing company grow tremendously since using his chosen leads-generating company.
Since many general contractors know their business but not how to build an online presence, consider investing in the service of a quality lead-generation company and website builder. Note their guarantees and past success stories so you know you choose a reputable, reliable company for your new roof cleaning business.
How Much Money Does It Take to Start a Cleaning Business?
Starting an exterior pressure washing business is very affordable and most people might need only about $2000 to open their company. Take into account the following costs and do some research on each in your area so you have a better idea of how much money you might need to start your business:
Registering your business name with your county.
Liability and worker's compensation insurance.
Reserving your URL and creating a website.
Marketing materials, including business cards and signage on your vehicle in addition to a website.
Some lead generation companies require a small upfront investment.
It goes without saying that your equipment will be your costliest investment! Despite this cost, never underestimate the importance of durable, high-quality pressure washing equipment. Underpowered models will result in poor-quality cleaning and negative reviews of your company, and no new customers.
When starting a cleaning business, ensure you've priced all your needed equipment and not just the pressure washer itself. For instance, do you have ladders for getting on the roof? Will you need a ramp to more readily load and unload equipment into a truck, or will you need a trailer to haul your equipment? If you need a trailer, you'll also need a license plate and insurance to cover its use on the road!
How Do You Quote a Roof Cleaner Job?
Roof cleaning is more dangerous than standard exterior cleaning simply because you need to be on a ladder and the roof itself. You will also typically need longer hoses to reach the water source and specialty cleansers meant for shingles and tiles. In turn, roof washing is often pricier than standard exterior power washing.
Some contractors charge by the square foot, usually between $0.08 and $0.35, and others by the hour. When starting out, you might struggle to estimate a roof's size and how long it takes to complete the project, so don't worry if your first jobs seem underpriced, as you'll be able to hone your pricing technique in time.
Use an Online Resource for Assistance
Also, a good way to practice estimating roof sizes is to go online and look for illustrations of various homes with their roof square footage; note the roof square footage of a standard three-bedroom home, a small two-bedroom ranch home, and so on. This can help you better "eyeball" a homeowner's roof when offering an estimate.
If you prefer to charge by the hour, note that most roofs take at least one to three hours to clean, and many roof washing companies charge anywhere from $60 to $100 per hour or more. Many roof washing contractors increase their charges for an overly filthy roof, one with lots of eaves and other obstructions, or one that doesn't offer much accessibility, such as for townhomes or condos where you might struggle to get your equipment onto the roof.
Related Questions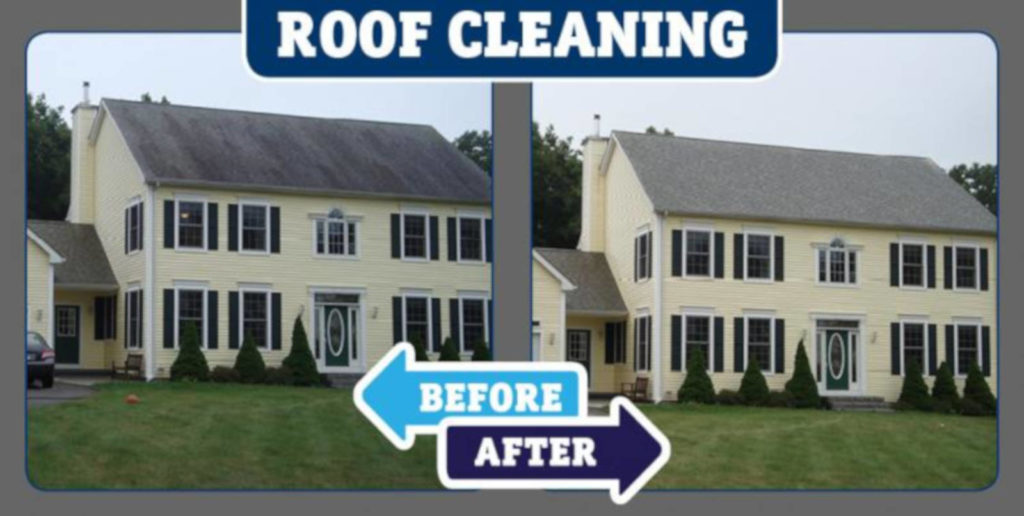 Can a cleaning business make you rich?
As with any business, the results you'll enjoy with your roof cleaning company will be directly dependent on the work and effort you put into it! The harder you work at learning effective cleaning techniques and at marketing your business, the more customers you'll get and the greater your overall profits.
How do I get more cleaning contracts?
Since most people find cleaning contractors online, ensure you're keeping your website up to date and adding new information so search engines see it as an active, legitimate site. Run regular specials, such as $50 off gutter cleaning with a scheduled roof wash. Also, call past clients and offer additional power washing services, such as driveway pressure cleaning or exterior house washing.
ProClean Pressure Washing St. Petersburg is happy to provide this information, and we hope it helped explain how to start a roof cleaning business. If you're looking for a roof cleaning company or high-quality residential or commercial power washing, give us a call! We provide FREE quotes and guarantee all our work to last.