Which is better, power washing vs. soft washing in St. Petersburg? To better understand the right choice for your home, you might note some vital differences between pressure washing, power washing, and soft wash systems, and some expert roof washing tips for your St. Pete home! You can then discuss this information with a power washing contractor near you, and ensure your home is always clean and pristine and in good condition.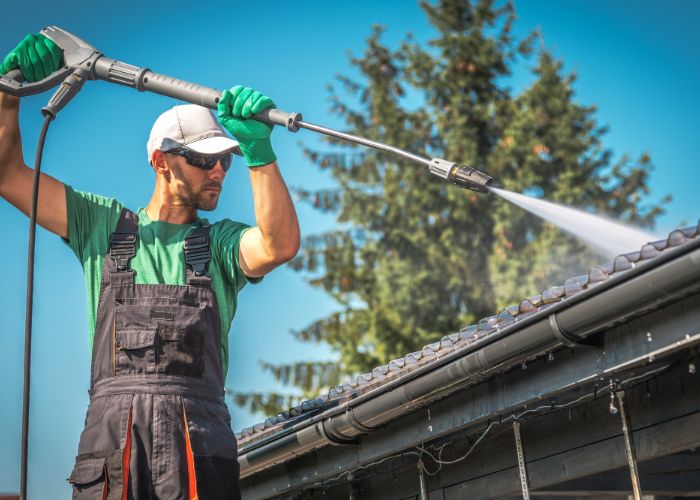 What Is Power Washing vs. Soft Washing in St. Petersburg
First note what is power washing vs. soft washing systems. Pressure washing refers to any cleaning using pressurized water, even a garden hose nozzle or sprayer! Power washing is pressure washing with hot water versus room temperature water. Hot water power washing is used to dissolve oil, grease, adhesives, and sticky residues.
Soft wash pressure washing uses strong detergents designed to dissolve thick dirt, mud, mold, sand and silt, and other residues. Once all that dirt is dissolved, low-pressure rinsing is used to remove it from a property's exterior surfaces. Standard pressure washing uses about 1200 PSI while soft wash systems might use only 500 PSI, or just slightly more pressure than your garden hose sprayer.
Power Washing vs. Soft Wash Roof Cleaning in St. Petersburg
While every pressure washing system has its own advantages, many contractors recommend soft wash systems for a property, including roofs. High-pressure rinsing easily etches wood surfaces, might shred old and rotting wood, dent metal siding, chip brick chimney facing and exterior walls, and peel away paint. Standard pressure washing is especially risky for roofs, as it can strip shingle granules, crack clay and slate tiles, and pull tiles and shingles from nails and connectors.
Soft wash systems offer a gentle yet thorough clean for a structure's roof, without risking damage. Soft wash pressure washing won't strip shingle granules, crack tiles, or create messy splatter that risks water damage to other areas of the home and roof.
Cleansers Needed for Low-Pressure Roof Washing in St. Petersburg
Now that you know why soft wash systems are best for roofs, note some low-pressure roof washing tips for St. Petersburg homes. Your first tip is to ensure your safety! Even with low pressure washing equipment, it can still be cumbersome to stay safe and secure on a roof, and especially once those tiles get wet. Invest in durable work boots and eye protection, and use a roofer's harness when on the roof.
It's also vital that you choose the right cleanser for your roof. Bleach is used for killing mold, moss, mildew, and algae, but doesn't necessarily dissolve dirt and grime. Use a phosphate-based outdoor cleanser for standard cleaning, and mix it according to package directions.
A surfactant is also needed for soft wash cleaning. This chemical slows down waterflow, so that your cleanser sits in place and then dissolves dirt and grime. You can find surfactants in the same section of the hardware or home improvement store as other exterior outdoor cleansers.
Neutralizers and odor removers are best used after cleaning. A neutralizer breaks down soaps and detergents, making them less harmful to your landscaping while ensuring less residue gets left behind. An odor eliminator removes any unpleasant cleaning smells; consider investing in these products for your soft wash roof cleaning as well as needed detergents and bleach!
Pro Tips for Low-Pressure Roof Washing
Now that you have your cleansers and are ready to tackle your home's roof, consider some pro tips for getting the job done right!
· Start at the top of the roof and work your way down, rather than spraying your cleaning solution up and under shingles. That solution should seep into nooks and crannies, and spraying it against the slope of the roof can risk loosening tiles.
· Pour your cleaning solution over the roof slowly, so it can seep into gaps and hidden areas. Pouring a solution too quickly over the roof can allow it to just run off the roof's surface! You might even invest in a large spray bottle, to more readily saturate the roof surface slowly and evenly.
· Let the cleanser sit for at least 15 to 30 minutes, so it has time to dissolve dirt and kill mold and algae.
· Work in small sections so you can spend time rinsing each section thoroughly without worrying about leaving cleansers behind.
Once your cleansers are dissolved, use a low-pressure rinse to remove them completely. If the roof still seems dirty, repeat this process but never use brushes or other tools on a roof. If you still don't have the results you expect, it's time to call in the pros!
ProClean Pressure Washing of St. Petersburg is happy to bring this information about power washing vs. soft washing in St. Petersburg to our readers, and hopefully you found it useful. If you're ready for high-quality power washing around your property, turn to our experienced St. Petersburg pressure washing contractors to get the job done right! We offer FREE quotes, convenient appointments, and guaranteed services. To find out more, call us today.