If you're a homeowner, you probably give very little thought to needed roof cleaning of your house, but this job is vital for the overall structural stability of your home and your comfort when inside. Regular roof washing also offers many other benefits for a homeowner and can help reduce the number of roof repairs needed over the years.
Note what every homeowner should know about roof cleaning:
A clean roof is less likely to develop leaks and other damage.
Cleaning a home's roof preserves the life of shingles.
Standard power washing is not always recommended for residential roofs.
Roof washing is dangerous and tricky, and not a DIY job.
While regular roof cleaning near St. Petersburg may not seem very important for the overall upkeep of your home, this job should be considered standard maintenance and performed annually if not even more often. To ensure you keep your home's entire exterior, including its roof, in pristine condition, note a few reasons why it's good to schedule regular roof washing, the type of cleaning often recommended for a residential roof, and how to maintain that roof overall.
Why Your Home Needs Regular Roof Washing
Regular residential roof cleaning will protect the curb appeal of your property, but there are many other benefits to having the roof washed as often as needed. Consider a few of those benefits here, and discuss these with a roof washing company or contractor as required:
Algae, mold, mildew, and moss are living organisms, and algae in particular feed off a home's shingles, eating the limestone filler found in most roofing tiles. Over time, these harmful organisms can cause shingles to become thin and weak so that they fail to insulate your home and eventually fall away from the roof.
Algae are also especially prone to growing in the crevices between and under shingles, dislodging those tiles and making them more prone to falling away or getting blown away in a storm.
Soot, pollution, acid rain residue, bird droppings, lawn care chemicals, and other such debris that settle onto a home's roof can dry out shingles and cause them to become brittle and crumbly. These residues can also become airborne, creating an unhealthy outdoor environment.
Seeds, twigs, leaves, and other wet debris often get lodged between and under shingles. As this debris settles against the roofing paper under shingles, it can soften that paper and lead to roof leaks.
Dirt and grime can settle onto a roof but be difficult to see, especially against dark shingles and tiles. Regular cleaning by a professional ensures that a roof is clean no matter its overall appearance.
Roof cleaning contractors remove slick residues from tiles and shingles so that the roof is safer for a homeowner who might want to handle their own roof inspections and minor repairs.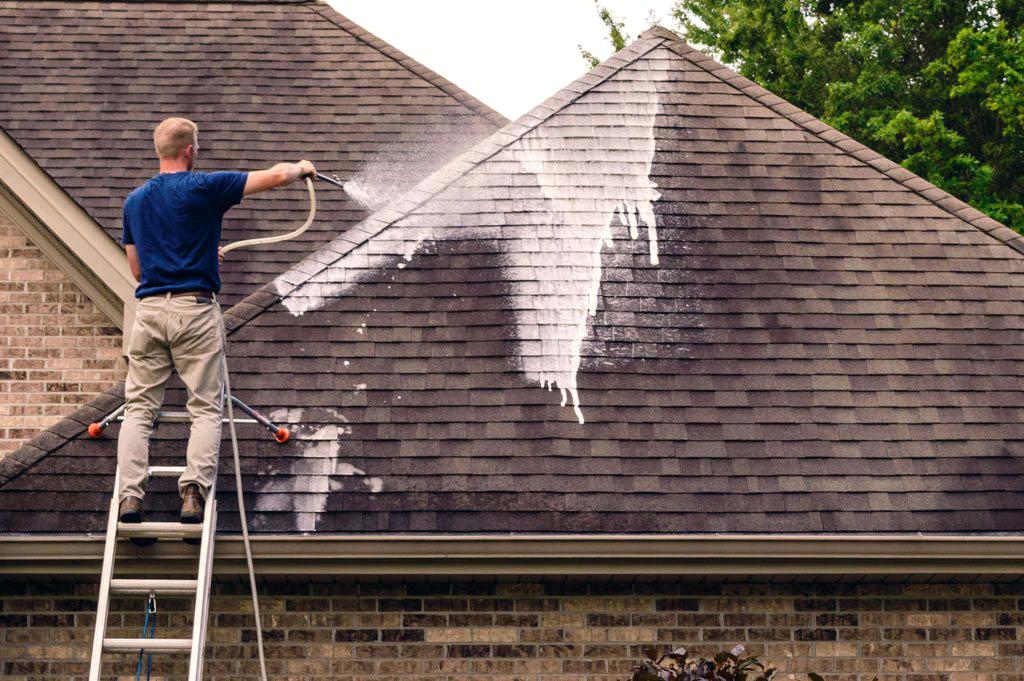 Your Options for Regular Roof Washing
Pressure washing a roof is not the only option available to homeowners; this option can be useful for metal roofs, but high-pressure cleaning often damages asphalt shingles, clay tiles, and other such materials. Too much pressure around shingles can also dislodge them and increase the risk of losing those shingles in a storm.
A soft wash cleaning is an excellent choice for asphalt shingles and other types of tiles and especially filthy roofs. Soft wash systems start with a specialty surfactant that sits on a roof for several minutes, working to seep into all its nooks and crannies and the many pits and pores of shingles and to dissolve thick dirt, grime, soot, dried dust, bird droppings, and other such debris.
Soft wash cleaning then uses low-pressure rinsing that is safe for roofing shingles and tiles, and which won't create a mess during the cleaning process! These soft wash systems are also an excellent option for older roofs, with brittle tiles that might otherwise loosen under a high-pressure rinse.
Professional Contractors Are Worth the Roof Cleaning Cost!
Many homeowners try to save on the cost of exterior pressure washing and other such cleaning services by renting a power washer themselves. Managing your home exterior washing can be a shortsighted mistake, especially for cleaning a roof. Using the wrong type of detergent on your home's roof, or failing to rinse that detergent after cleaning correctly, can lead to dried shingles and tiles.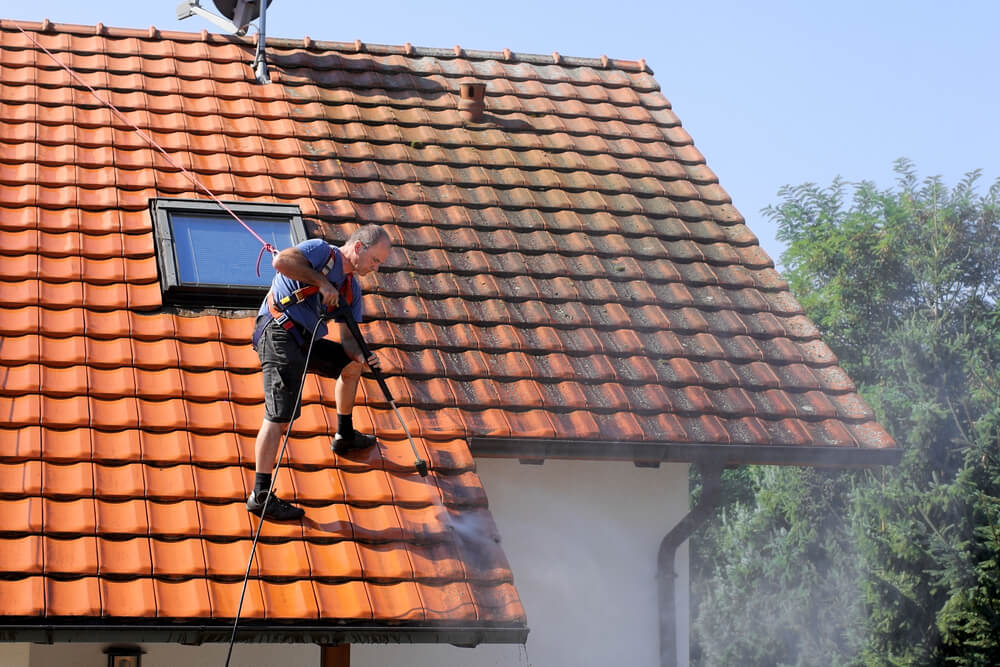 As with all exterior house cleaning, washing a roof also typically takes some skill and know-how, as the wand should be angled correctly, held a certain distance from the shingles, and continuously moving, to avoid causing damage. Improper wash techniques can also result in spreading and splashing dirt around the roof and your home's exterior, making an even bigger mess than before you began cleaning your home's roof!
Note, too, that many professional roof cleaning contractors have experience in examining the overall condition of a home's roof. While a roofing contractor might be able to inspect a roof more thoroughly than a power washing professional, a roof cleaner can often tell you if the roof is missing shingles, has damaged shingles in need of replacing, if there are soft spots on the roof, and so on. You can then arrange for a full inspection, as needed, and ensure your home's roof is in good repair.
How Often Should You Clean a Home's Roof?
A home's roof usually needs cleaning every year or every few years by a professional, but some homes might need more consistent cleaning, even requiring a wash more than once per year. Note a few factors to consider when deciding how often your home's roof needs washing and how to clean roof shingles properly and effectively:
Frequent storms deposit leaves, twigs, and other such debris on a roof. A house in a tropical or exceptionally stormy area may then need roof washing more often than others.
Airborne sand, silt, and other gritty residues from nearby beaches and coastal areas will often settle onto a home's roof and then work their way into the cracks and crevices between shingles and tiles, causing damage and potentially even loosening those shingles.
Heavy vehicle, airplane, and boat traffic from nearby highways, airports, and coastal areas create thick soot and grime and other such dirty emissions. Dark, gritty grime often covers homes in these areas, and is especially noticeable along the rooftops!
Large, mature trees hanging over a house will result in leaves, twigs, seeds, sap, and bird droppings landing on the home's roof. If you don't want to cut back those branches, your home might require roof washing more often than average.
Production facilities, refineries, and other such commercial enterprises that use lots of heavy machinery or that produce large amounts of smoke typically create thick air pollution that settles onto nearby roofs. Even a large outdoor grill can produce smoke, soot, and other such pollution that may tend to build up on your home's exterior walls and its roof.
Pro Tips for Exterior House Washing
When you're ready to hire a roof washing contractor, note a few tips for choosing the right company and for ensuring your property is always clean and pristine, and protected from damage:
Opt for a company that offers soft wash cleaning as well as standard pressure washing. Having more than one option ensures that your home's roof, exterior walls, and all other areas and surfaces are cleaned thoroughly but without damage.
Consider having the home's gutters cleaned during a roof washing. Clogged gutters that allow rainwater to wash over the sides will lead to stained exterior walls, as well as the potential for water to collect around a home's foundation, leading to cracks and leaks.
Note if leaves, twigs, and other such debris are typically covering the roof and if this residue is also clogging the home's gutters. If so, you might consider trimming back some trees that hang over the house or that are close to the roof, to reduce this damaging debris.
Never overlook the need for regular window washing and washing of exterior bricks walls. A buildup of dirt, dried dust, mud, soot, grime, sand, silt, and other such residues on your home's exterior surfaces can weaken window glass and cause softening of the brick, leading to cracks and other such damage.
To keep your home's exterior clean, be sure you avoid hitting it with blown snow, grass clippings, and the like. Debris from your lawn and snow clearing will hold moisture, dirt, mud, corrosive wintertime salt, and other such residues against your house's exterior, causing damage and making it look rundown and dirty.
Related Questions
Should a homeowner clean an old roof?

An old roof might need more cleaning than new shingles, simply because cleaning a roof allows a homeowner to inspect it for required repairs and shingle replacement. Soft wash cleaning is safe for older roofs with brittle or damaged tiles.
Should you hire a specialty roof cleaning company for a roof?

Always hire a pressure washing company for roof washing, versus a general contractor. Being on a roof itself is dangerous and requires specialized training, and roof washing contractors will know the right detergents to use for a roof and how to clean it thoroughly without causing damage.
Do certain types of roofs need washing less often?
Metal roofs may not hold as much damaging debris as individual shingles and tiles and may be stronger against corrosion caused by acid rain and other residues. However, every type of roof can and does get dirty, and needs regular roof cleaning to maintain its overall appearance.